Yardrat-jin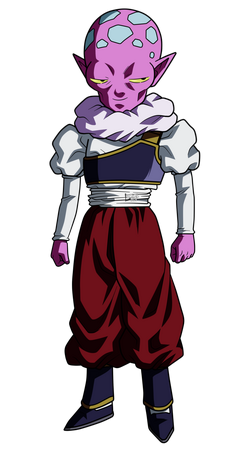 Attributes:
INT: 5d6+5
MNT: 3d6+5
STR: 1d4
DEX: 2d6+2
STM: 1d4
SPD: 2d6+4
HP: STM*7+15 per level
Ki: MNT*16+30 per level
Gain 1 power at level 2 and one power every level after
Abilities:
1. All Yardrat-jins are immune to a Ligon's time manipulation.
2. Yardrat-jins gain a a +3 to MNT when leveling up and then a +20 to add to any attribute besides STR.
3. Yardrat-jins are very smart which gives them a +2 to init and can manipulate time and space well giving them a +1 actions per round.
4. Yardrat-jins all wear the same clothes but the style changes every month so every month a Yardrat-jin must pay 500 credits for a new ridiculous looking outfit.
5. They are so short they gain a +1 to all dodge rolls, except against other short races.
6. They are very protective about there outfits and if they rip (AP, AC, DAC) the Yardrat-jin will suffer a moral minus giving it a -1 to all rolls for that round. Must pay to replace outfit after battle.
7. A Yadrat-jin like an MA has special ki defenses, they start with Aura of Protection, they may use x30 ki per level instead of x25 per level.
8. A Yadrat-jins start with a school at level 1

Unique Powers:
Freeze: This ability the Yardrat-jin will freeze time and fix his placement for an auto dodge or strike but may be used only once per battle and costs 100 Ki and 2 STM. Cannot be picked until level 3.
Instant Transmission: This ability will allow you to lock onto someones ki and allow you to transport to them. It costs 2 STM and 100 Ki. It can be used in battle giving you your MNT /15 in a strike bonus. If used to dodge a large KI blast, it gives you your MNT / 15 to ranged dodge but can only be used once per battle in this fashion and increased 1 per level until level 10 then you can do it as many times as needed. Cannot be picked until level 6.   When you reach level 8 you can teach this attack to others. Takes a month to teach.  May only be done a number of times a day equal to the Yardrat-jin's level becuase of the adreneline required to use the power.